Label Rekaman Inggris, Defected Records Gelar Festival Musik Virtual
Saat di Indonesia hampir seluruh acara festival musik diundur atau bahkan dibatalkan, tidak berlaku untuk label rekaman ini yang satu ini. Defected Records, salah satu label rekaman asal Inggris menggelar festival musik secara virtual pada Jumat, 20 Maret 2020 lalu. Tentunya hal ini mereka lakukan untuk mencegah pertemuan langsung dengan orang untuk menghindari penyebaran virus Corona.
Defected Records akan menggelar festival musik tersebut lewat streaming yang dapat diakses melalui situs Ministry of Sound.
Buat lo yang suka genre house music, cocok banget buat lo tonton karena festival musik ini menghadirkan sederet DJ seperti Simon Dunmore, Monki, Sam Divine, Low Steppa, The Shapeseifters, Melvo Baptiste, Joey Negro, Dan Shake, dan Darius Syrossian.
Sementara para DJ tampil, para kru penari dari Glitterbox juga turut tampil dan berupaya sedemikian rupa untuk membawa atmosfer club ke rumah masing-masing penontonnya.
Ain't no stopping us! ❌ This Friday Defected is in YOUR house! 🏠🎵💃 Lock in 12PM – 12AM for the @DefectedRecords virtual festival LIVE from @ministryofsound spreading those positive house music vibes around the world 🌍🤍💫 pic.twitter.com/VoaQwG77de

— ▼ Sam Divine ▼ (@samdivine) March 18, 2020
"Musik dan clubbing adalah cara relaksasi bagi banyak orang, tapi perkumpulan sosial sedang dilarang sekarang ini. Kami ingin menghubungkan orang secara daring dengan harapan mereka bisa merasa tidak sendiri," kata Simon Dunmore selaku pemilik Defected Records dilansir dari CNN Indonesia.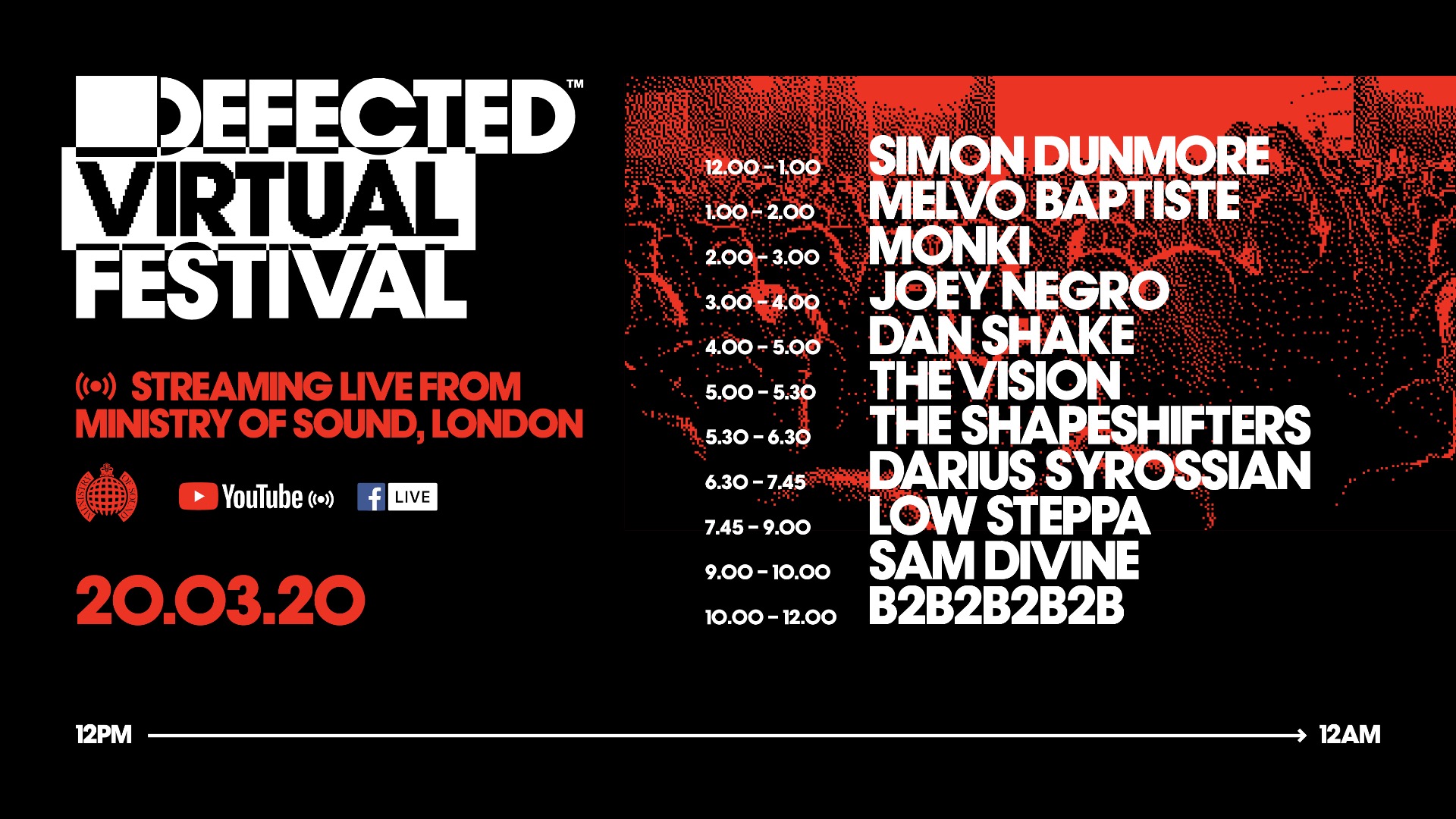 Walaupun terpaksa dilakukan secara live streaming, namun Dunmore percaya dan yakin bahwa antusiasme publik akan acara festival virtual ini sangatlah besar. Sejak Dunmore mempublikasikan idenya, banyak DJ yang langsung menghubunginya untuk turut mengisi acara tersebut.
"Kami selalu memikirkan mereka yang terkena dampak situasi saat ini, tapi kami yakin kami bisa punya peranan positif dan membawa orang bersatu dengan cara yang kami bisa," lanjut Dunmore.
Tidak hanya sajian festival virtual saja yang akan dipersembahkan Defected Records, tapi mereka juga akan rutin setiap minggunya merilis Defected Radio Show yang dipandu oleh Sam Divine, DJ asal kota London.
Bagi yang nggak sempat nonton live-nya Defected Virtual Festival 2020: "Defected In Your House" di atas.