Feast Bersama dengan Netflix Rilis Single "Dunia Terbalik", Bentuk Selebrasi Serial "Stranger Things"
Feast bekerjasama dengan Netflix
Grup musik rock asal Jakarta, Feast diajak Netflix Indonesia untuk merilis sebuah lagu yang berjudul "Dunia Terbalik"
Lagu tersebut dirilis sebagai bentuk selebrasi atas hadirnya msuim terbaru serial "Stranger Things 4: Volume 1" bersama dengan para fans Stranger Things di Indonesia.
"Semoga pendengar bisa merasakan excitement dan kecintaan yang sama seperti kami saat mengerjakan lagu untuk serial ini. Smeoga yang belum tahu Stranger Thins jadi ikutan nonton karena lagu ini, dan semoga lagu ini berkenan di hati para penggemar Stranger Things," tutur sang gitaris Feast, Diki.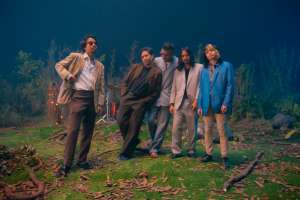 Lagu yang merangkum cerita serial "Stranger Things"
"Dunia Terbalik" berisi tentang berbagai cerita yang ada di dalam serial Stranger Things yang dirangkum dalam satu lantunan lagu yang indah.
"Lagunya merangkum cerita di serial Stranger Things selama ini, juga berbicara tentang persahabatan secara umum dan apa yang kurang lebih dirasakan kami masing-masing dengan kawan tertentu," ujar sang vokalis, Baskara Putra.
Dalam proses pembuatan lagu tersebut, Feast melakukannya dalam waktu 3 hari dengan keinginan untuk merepresentasikan nuansa di era 80-an.
Perasaan senang Feast sebagai fans "Stranger Things"
Ajakan dari Netflix Indonesia langsung diterima oleh Feast.
Mereka merasa senang dan bangga atas tawaran yang diberikan kepada mereka, karena mereka merupakan fans dari serial tersebut.
Saat ini, musik video dari lagu "Dunia Terbalik" sudah dapat disaksikan di laman Youtube Netflix.
Have you heard the song? Let us know!