Kenapa Fans Suka Ngelempar Barang ke Artis Pas Konser?
Bebe Rexha Sampai Drake Jadi Korban Lemparan Fans
Fenomena artis jadi sasaran lemparan barang oleh fans ramai diperbincangkan beberapa waktu terakhir. Pada Juni, bintang pop Bebe Rexha sempat menjadi 'korban' lemparan handphone saat konser di New York. Handphone yang dilempar itu mengenai kepala Bebe Rexha. 
Tak hanya Bebe Rexha, Drake juga menjadi 'korban' lemparan handphone fans kala konser di Chicago baru-baru ini. Selain itu, Kelsea Ballerini sempat terkena gelang yang dilempar fans ketika konser di Boise, Idaho. 
Kenapa Fans Ngelempar Barang ke Artis?
Pop Culture Expert at the University at Buffalo, College of Arts and Sciences, David Schmid: Dalam perspektif beberapa fans, artis kadang dianggap sebagai 'dewa,' panggung dianggap sebagai 'altar' dan objek yang dilempar ke sana merupakan 'benda suci.'

Pengajar di Universitas Cardiff, Dr. Lucy Bennett: Jadi cara fans supaya bisa di-notice sama artis.
Profesor Marketing di Emerson College, Boston, Kristin Lieb: Fans lupa artis juga manusia dan merasa artis perlu melakukan apa yang mereka mau.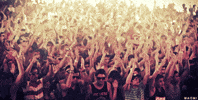 (via Giphy)
 "Semua orang yang menghadiri konser bertanggung jawab untuk menjaga satu sama lain agar aman. Konser seharusnya menjadi ajang bagi komunitas untuk bersama-sama menyebarkan keajaiban live music, tanpa harus khawatir dengan 'sebuah chicken nugget [bisa saja] mengenai bola mata mereka'," ujar Managing Director at Berklee Popular Music Institute, Boston, Morgan Milardo, dikutip dari Associated Press.
What are your thoughts? Let us know in the comment!
(Photo courtesy by Unsplash and Instagram/@beberexha)
Di Taiwan, Calo Tiket Konser Bisa Dipenjara dan Didenda: Gimana dengan Indonesia?