The Strokes Rilis Single Baru dari Album Terbarunya
Album pertama dalam tujuh tahun
Setelah merilis "At The Door" dan "Bad Decisions," The Strokes kini hadir dengan single baru, "Brooklyn Bridge to Chorus."
Mirip dengan "At The Door," single terbaru ini mengusung kombinasi musik rock dengan sentuhan disco-synth pop dengan tabuhan drum a la genre new wave dari sang drummer Fabrizio Moretti.
Single ini kuat diduga menjadi lagu perkenalan terakhir dari album keenam The Strokes, "The New Abnormal" yang berisi 9 tracks.
Album tersebutakan menjadi album pertama The Strokes dalam kurun waktu tujuh tahun dan akan dirilis pada Jumat (10/4) mendatang dalam bentuk fisik dan digital.
Sayangnya, perilisan fisik "The New Abnormal" harus ditunda karena adanya pandemi Corona.
Sebelumnya, Julian Casablancas dkk sempat merilis full album "Comedown Machine" pada tahun 2013 dan EP "Future, Past, Present" di tahun 2016.
Kini, The Strokes pun disebut-sebut mengambil arah baru dalam pembuatan musiknya. Beberapa media dan kritikus musik menjelaskan "The New Abnormal" sebagai pendewasaan The Strokes yang mendorong band ini keluar dari dari zona nyamannya.
Kalau lo mendengarkan side project dari Julian Casablancas, The Voidz, suara yang hadir pada single terbaru The Strokes tidak akan asing lagi di telinga lo, tapi kalau lo adalah penggemar berat 4 album pertama The Strokes mungkin akan sedikit kaget.
Nggak cuma mainin musik rock, di album ini The Strokes juga mengeksplorasi genre lain seperti alternative pop, jazz hingga hip-hop.
The New Abnormal full tracklist:
The Adults Are Talking
Selfless
Brooklyn Bridge to Chorus
Bad Decisions
Eternal Summer
At the Door
Why Are Sundays So Depressing
Not the Same Anymore
Ode to the Mets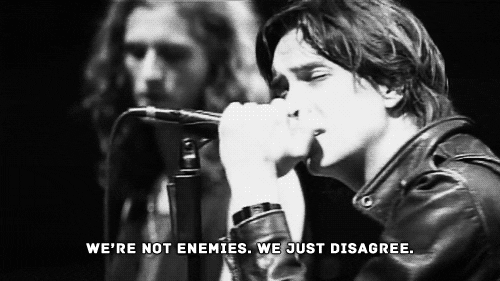 Source: Giphy
---
Sejumlah musisi memang banyak merilis materi baru di bulan April ini. Nggak cuma The Strokes, vokalis My Chemical Romance, Gerard Way, pun merilis empat lagu baru untuk menghibur penggemarnya di tengah pandemi Corona ini.
Hal serupa juga dilakukan Rhoma Irama yang merilis lagu berjudul "Virus Corona" sebagai respon terhadap penyebaran COVID-19.
Apa rilisan musik favorit lo di bulan April ini? Tell us in the comments below!